Discover more from Ethernal World
Updates from the Ethernal, a multiplayer dungeon generated and owned by the players.
Over 1,000 subscribers
Alpha 2.0 Updates 07.19
New Features, DungeonBot, community and next steps
Hello from the Ethernal,
Hope everyone has been busy exploring and looting. ⚔️ Here are the updates since our last post.
Dev updates
🗺️ Dungeon map: besides generating monsters for themselves, characters are now generating NPCs, chests, and monsters in their area when they move around.
Alchemist: trade gear for fragments (will be very useful on Floor 2)

Big bosses (on level 8)

Chests

Map UI updates and features
⚔️ Gear & items
Gear with class & durability

Special attack gear (level 8 only)

Uncommon (only level 4+) & rare gear (only level 6+)

Gear UI updates
🎒 Inventory & trade
Enable consumable transfers (coins, keys, fragments, elements): drop & pick up, and send to and from the vault

In-room trade & reactions: send reactions to characters in the same room and buy or sell items & gears for coins
🧙 Characters
Character page: see other character's stats & items via their unique URL
We also welcomed DungeonBot to our Discord. DungeonBot notifies us when new events are triggered in the dungeon as well as providing general information and FAQs to players. We will be adding more features to DungeonBot and use it to quickly test stuff out without requiring us to build a UI.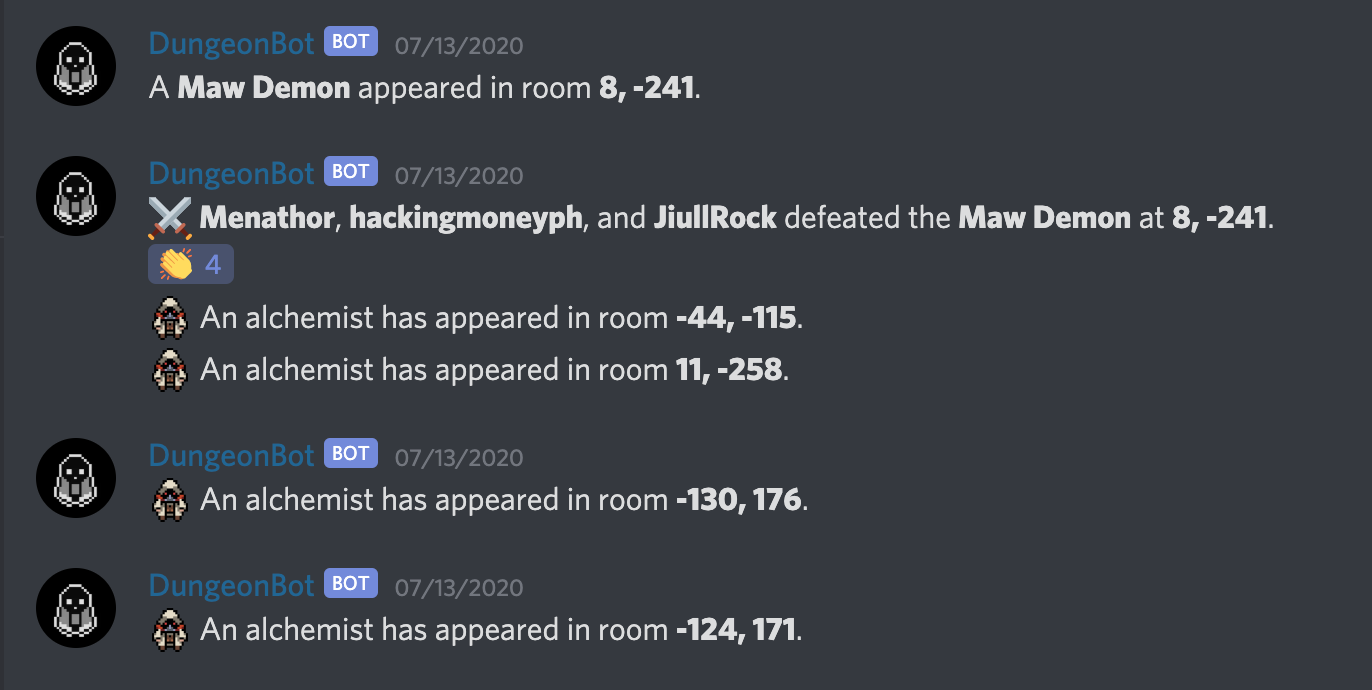 Community
Though our playtester community is still small (we are in closed Alpha), we've been encouraged by the support and engagement from them. Playtesters have initiated a Guardian clan of elite character that helps out other characters, started translating game texts into different languages, and written great posts of their first experience in the dungeon. As we continue to build out the core gameplay of Ethernal, we are excited to continue learning from our community's feedback and feature ideas.

Limited art
We released the second character in our Ethernal x Hermippe Heroes series. The next character will be released on Tuesday (7/21)!
Next up
We've been busy getting Floor 2 ready and preparing our smart contracts for moving to the Matic Mumbai testnet. There will be bigger updates and new features coming up. Stayed tuned. 👀
---
Want to be an Alpha tester?
You can still reserve a key by following us and tweeting "open sesame" to @EthernalWorld. Or message us in #🗝️keys🗝️ on our Discord.

To get more updates and details, follow us on Twitter or join our Discord community.