Discover more from Ethernal World
Updates from the Ethernal, a multiplayer dungeon generated and owned by the players.
Over 1,000 subscribers
Mumbai Alpha is live!
Dungeon ownership, governance, and rewards
Greetings from the Ethernal,
For the summer (and since my last post) our team has kept cool by staying indoors, continuing to build and test features, and moving closer to getting ready for our Mainnet release.
We began moving our dungeon to Matic's new Mumbai testnet on July 23rd (all other Matic testnets have been deprecated). While this forced us to wipe our testnetV3 dungeon and start a new dungeon, it allowed us to make some big changes that wouldn't have been possible or were much more challenging through only updating our smart contracts. And we've been testing the new Mumbai Alpha with our playtesters.


Dungeon Keeper
Dungeon Keeper is the biggest update that we made in the Mumbai Alpha. Players now own the rooms that they generate, earn rewards based on activities in their rooms, and unlock things to add to their rooms. Our team had previously brainstormed on ways to give players more control and allow them to govern and manage what would be generated in the dungeon. Dungeon Keeper made the most sense to us.
Since the beginning, our goal has been to design a fun game that fully utilizes the advantages of decentralization. To us, that means more ownership, value & control for our players. Now every time a player makes an on-chain move, they are not only generating monsters, chests, or NPC in the dungeon; they are also minting room NFTs for themselves or minting rewards for the owner of the room. As owners of rooms, they directly control what gets added to the dungeon.

We've been testing these Dungeon Keeper features for both its gameplay and its economic model. I will share details and updates from the test in a future post.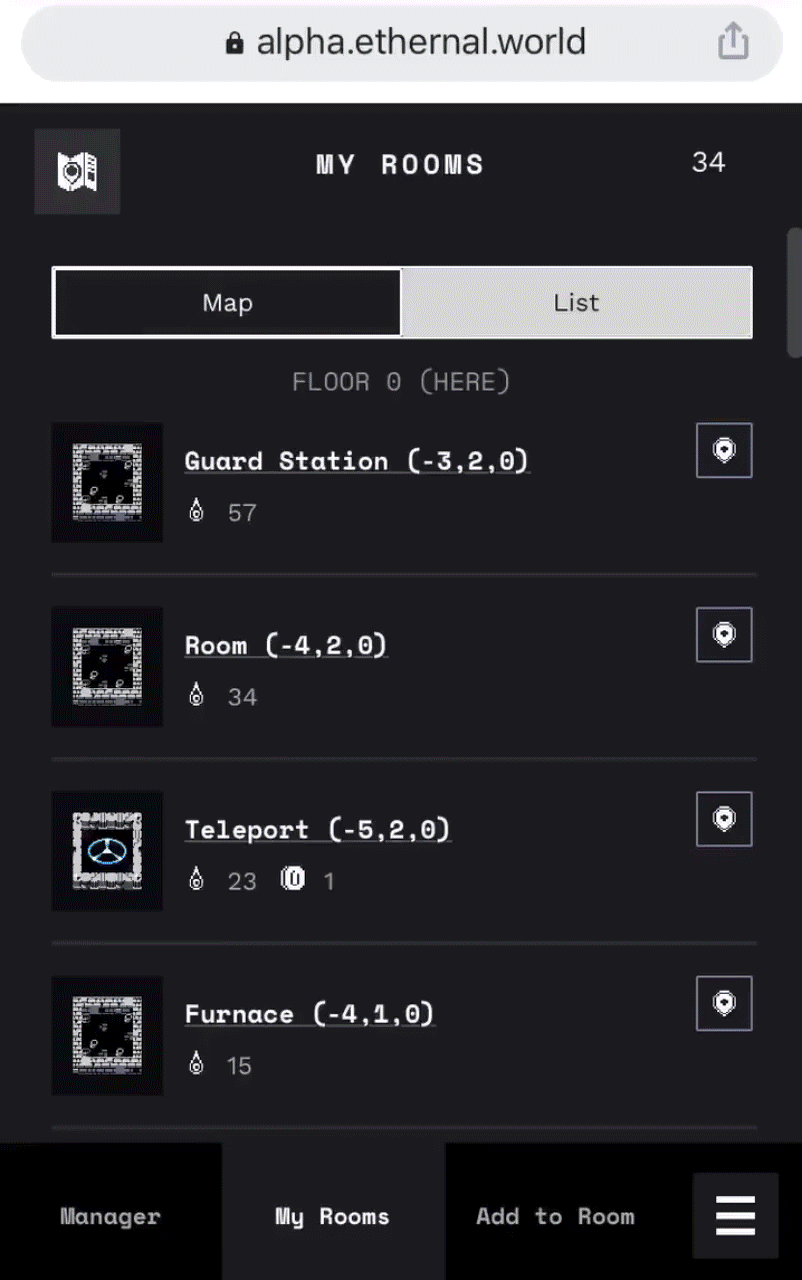 All major updates
📜 Quest system
4 unique quests added to this release.
🗺️ Multifloor dungeon
Unlock the next floor & move between floors using teleports as portals.

Minimap - the Cartographer's little secret :)
☄️ Dungeon keeper & rewards
Generate & own rooms: this unlocks the Dungeon Keeper feature. Generating rooms cost fragments.

Rewards: players earn fragments (and coins for special rooms) when other characters take actions in their rooms.

Adding to rooms: unlock new things to add to rooms & new features by earning fragments.

Tax: players need to pay tax or risk having their rooms put on sale. They have the option to abandon or deactivate their rooms.
Economy
Fragments: integrated fragments from testnetV3 dungeon that playtesters earned into the current dungeon.

Coins: more coin drains.
Technical
Diamond contracts: contract refactoring and implemented the diamond standard for more flexible upgradability

More caching refactoring & optimization

Front end data culling: more optimization
Ethernal x Hermippe Heroes #3 & #4
The fourth Ethernal x Hermippe Heroes limited art, ↜Warrior↝, is on OpenSea! Sale ends Aug 13th, 10 PM ET.
---
Want to be an Alpha tester?
You can still reserve a key by following us and tweeting "open sesame" to @EthernalWorld. Or message us in #🗝️keys🗝️ on our Discord.

To get more updates and details, follow us on Twitter or join our Discord community.